Toni is BACK................ well, kind of BACK, hahahahahaha! She's going to take some time to get her site up to speed, tonihansen.com, and may start posting on it, in the mean time you can sign up for her free email service and recieve her market updates in your own email box. This is the first market update I've seen her provide in what, two years??, and is an example of what you get. Don't forget to sign up for her swing trading meeting on Sundays, the link is down at the bottom of her article, enjoy:


The Big Picture - A Market Outlook
From the desk of Toni Hansen
When Will This Market Run Out of Steam?
Everyone loves a good rally. Traders love it. Investors love it. Businesses love it. And of course politicians love it (well, at least the ones in power). But what happens when the market runs out of steam? We may find out quite soon!

Technical analysis is all about odds. What is the "most likely to happen" and "when"?

The market has been on a strong path higher over the past four months, and this trend has been a continuation of an even larger uptrend that has been in play in the major indices since October 2011. And THAT uptrend has been a part of the monthly uptrend that we've seen hold since March 2009.

It's no wonder that few are looking back and the sky seems to be the limit. Funny thing though: I seem to remember the same thing back in 1999... and again in 2007.

So when I once again start to exhaustion patterns begin to develop in the S&P 500 and Nasdaq Composite like I did back then (albeit different exhaustion patterns), I start to get leery.

To start with, that trend we've been following since 2009 kicked off its third wave of upside on the monthly time frame in October 2011. Since the corrective phases between each of those upside waves was comparable in time development, that means that the odds of getting a fourth wave without a larger trend correction on that time frame are not particularly strong.

To make things even more difficult for the long-term bulls, this third wave of buying that began in 2011 has three legs up in it as well, but the final two were stunted compared to the first. Despite the strong momentum, they established only slightly higher highs with each push of buying. This created a momentum shift that is transected in blue in the charts below and annotated in green. This is yet another trend exhaustion. Currently the market is testing the zone of upper price channel resistance created by this trend.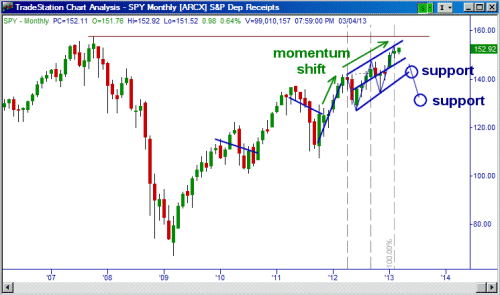 Still not convinced? Let's look at some other factors affecting the current trend.
For one thing, with each of the successive waves of buying on both the larger monthly rally from 2009 and the smaller rally from 2011, the volume has declined even as the market made new highs. The only spikes in volume came as selling hit hard with each correction within the trend. The average monthly volume in the SPY and QQQ are now the lightest they have been since before the market topped in 2007. This decline in volume, combined with trend exhaustion, and a shift in momentum are all signs that another major monthly pullback is likely on the horizon.
And then you have the prior highs in the SPY from 2007. Since the overall rally off the 2009 lows has taken substantially longer than the fall from the 2007 high, that level will serve as strong resistance. Although the market can push through such a level to a higher high, like we saw with the weekly correction into 2011 lows and subsequent rally past the 2011 high into 2012, these only tend to lead to relatively slightly higher highs, followed by sharp corrections. The 2012 pullback was again a good example.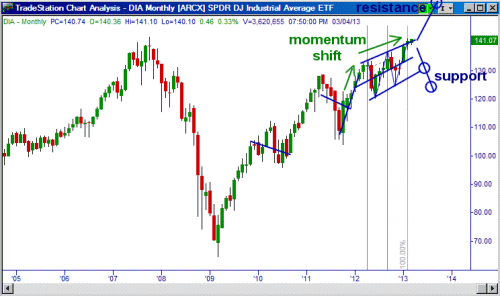 It was back in mid-January that I shared via Facebook to expect momentum to shift on the weekly time frame and that I would start to watch for larger correction patterns and a wider range in the markets from one week to the next. I also pointed out that the third week of February would be the first major time resistance level to hit in the S&P 500 ($SPX). This is due to the equal spacing between highs in the index since 2012 and this level hit perfectly, followed by the sharp retracement two weeks ago. In the Dow Jones Ind. Average ($DJI), however, that time development resistance doesn't hit until around the third week of March, which was a major technical reason behind the stronger push in that index to higher highs this week on the daily time frame.

Many individual securities have indeed followed in the path of the overall market and have started to show that exhaustion through rapid intraday corrections, such as in Goldman Sachs Group (GS). What we have not yet seen are the greater number of reversal patterns developing on the daily time frames of individual securities within the indices. Sure, we've seen some pullbacks with the market, but when I'm scanning for strategies on a time frame larger than a 60-minute chart, I'm coming up short... just not in the way one would typically expect at these levels.

Does this mean that my original hypothesis that the market will pull back into summer is incorrect? So far the answer is "no". We've already seen a variation of the type of follow through I was expecting back in January as the buying slowed and the market flushed two weeks ago. I suspect, however, that this increase in volatility with continue over the next several weeks as the market guesses and second-guesses how to handle this exhaustion.

Although less likely to occur, should the momentum fail to continue to shift in favor of the bears and press through the upper channel of the momentum shift shown on these monthly charts, the next major resistance level in the indices will be a move for the October 2012 rally that is comparable to the one from October 2011 to April 2012. I've shown this on the chart of the DIA. This type of breakout, however, is most common in a new uptrend and is the least common in an extended trend. Instead, false channel breakouts are more likely at these levels. Often these false breakouts will have strong momentum on the smaller time frames, so the rapid moves higher this week are not enough to instill confidence and you can probably guess the main catch phrase that pops into my head these days: "Buyer Beware!"



If you have enjoyed today's Market Outlook, join us for a live webinar outlook every Sunday at 4:00 ET and watch for a new Market Outlook segment each week with the weekly Earnings and Economic Reports.To register for Sunday's web series, go to
https://www2.gotomeeting.com/register/204392858